Energy I-Corps for SBIR/STTR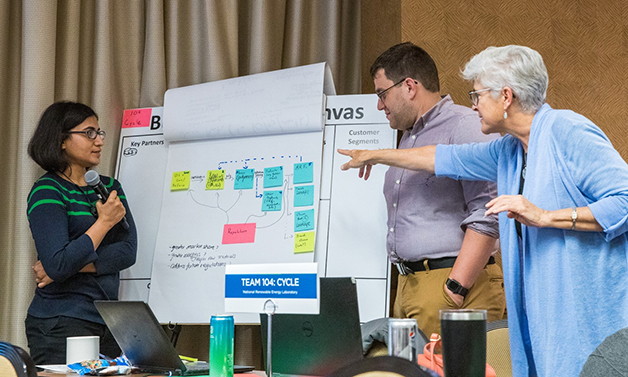 Program Description
In collaboration with the Office of Technology Transitions, the Office of SBIR/STTR Programs has developed a version of Energy I-Corps training aimed specifically at DOE SBIR/STTR Phase I awardees.
The Energy I-Corps for SBIR/STTR was piloted in October 2020 and expanded in 2021. FY 2022 Phase I Release 1 awardees are eligible to apply and are highly encouraged to sign up for this unique opportunity.
The first release of Energy I-Corps for SBIR/STTR prompted great satisfaction:
I'd highly encourage SBIR teams to apply if they can commit to the I-Corp schedule and deliverables. Going through the customer discovery process proved invaluable to accelerate our understanding of the potential non-DOE market.
Selected applicants will receive an intense 2-month virtual entrepreneurial training from experienced instructors at no cost to participants. The Energy I-Corps for SBIR/STTR is designed to educate awardees on entrepreneurial concepts and practices based on the validated Lean LaunchPad methodology to innovation, centered on the customer discovery process.
The methods of the lean start up were really enlightening and an excellent tool for examining and developing our business. The instructors were fantastic, they knew the subject matter very well and were very clear in their communications and very approachable in their methods. Can't say enough good about them.
The Customer Discovery process provided insights and guidance we would otherwise have not uncovered, allowing us to better focus our business model and better identify which of our potential customers offer real value. MBAs may understand all of this, but until the I-Corp training our company's scientists/engineers did not.
The Energy I-Corps for SBIR/STTR is offered in addition to the Commercialization Assistance Program (CAP) and complements the latter in assisting Phase I awardees to develop a strong Commercialization Plan.
The Energy I-Corps information we developed will be very useful both in discussions with the CAP advisor and for directly creating our Commercialization Plan.
The training includes a series of interactive workshops and webinars focusing on performing customer discovery, identifying market segments, and crafting value propositions. During the training, participants will conduct a minimum of 30 customer discovery interviews and will interact among each other and the instructors to share lessons learned. The training will end with final pitch presentations by participant teams to an audience of instructors and DOE program managers. All activities will be conducted virtually due to the ongoing COVID-19 pandemic.
How to apply
Interested applicants should send an email to SBIR-EnergyICorps@hq.doe.gov before the application deadline of March 18, 2022. Your email must include the following information:
DOE award number
DOE program office funding their award (e.g., EERE, FE, NE, FES, BES, etc.)
Personnel that will be participating in the training. Please include the role (e.g., PI, business development manager, . . ) as well as name of personnel that will be taking the training. Each awardee may submit one to three participants, with three being the recommended number. Personnel must come from the small business awardee or a subawardee.
Commitment statement. In your commitment statement, please state that participants agree to attend all the required workshops and final presentation, commit to complete the scheduled assignments, and state why the I-Corps training will improve their commercialization efforts. The statement should be 150 words or fewer.
Selection Criteria
This cohort will be limited to 40 participants. Participants will be selected based on their commitment statement. In addition, selection officials will aim at obtaining a fair distribution of participants across the funding DOE program offices.
Because training sessions are costly and highly sought, we urge awardees to apply only if they can commit the necessary time and effort. Dropping off after the beginning of the program leaves resources unused and prevents others from taking advantage of this opportunity.
Expense Reimbursement
Please note that time spent by the participants for the Energy I-Corps training cannot be directly billed to an SBIR/STTR award because these are not research and development expenses.
FY 2022 Phase I Release 1 Cohort: Training and customer discovery for this cohort will be virtual due to the COVID-19 pandemic. Therefore, no travel will be required or reimbursed.
Future Cohorts: After the pandemic, workshops and customer discovery will be implemented in person. Travel required for training and customer discovery activities will be reimbursed.
Links:
SBIR/STTR I-Corps Info Webinar
For further questions contact Carol Rabke at carol.rabke@science.doe.gov